Officials from the Immigration Department, the Tourism Department in Ho Chi Minh City and related agencies yesterday held a ceremony at  Tan Son Nhat International Airport to welcome  the first tourist on e-visa visitor to arrive in Vietnam granted an electronic visa.
Vietnam's brand new e-visa system has had a rocky start with reports of difficulties accessing the application websites.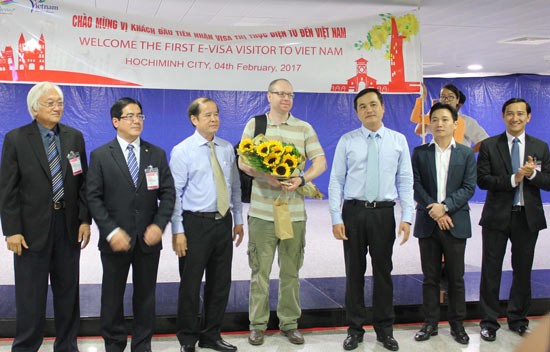 Richard Kenneth Wilson who is the British national applied online for e-visa. Tourist agents said that the implementation of e-visa is expected to facilitate paperwork; accordingly it will attract more holiday-makers to Vietnam.
Richard Kenneth Wilson said he applied for e-visa to enter Vietnam from February 3 to March 5. His e-visa was granted on February 1 when the country launched for the first time the new system of e-visa approval which allows visitors from 40 countries to apply online for 30-day tourist visas.
"I am very happy being the first tourist to come Vietnam by e-visa", Richard said. He added that he surprised when he was warmly welcomed as this is the first time he arrived in Vietnam, surely he will return the country with his family for sight seeing tours.

( Viewsource: tuoitreonline.com )
Applicants just make online payment of US$25. Vietnam's immigration authority can directly issue visas via the system to visitors from foreign countries without a representative office in that country, making it easier and cheaper for tourists to visit Vietnam.
The city Department of Tourism said that there has been an increase in number of holiday-makers to Vietnam during Tet holidays ( the Lunar New Year) with 253,000 visitors. It is a happy sign of the city's tourism sector.
E-visas will be accepted at all of international airports in Vietnam, including the major hubs of Ho Chi Minh City, Hanoi, Da Nang, Can Tho City, and Phu Quoc Island.
British national has become the first visitor to arrive in Vietnam on an e visa. And it's less than a week. After the country launched, the online application system.
On February 1st, Wilson granted his e-visa. And he launches date of the new system which allows visitors from 40 countries to apply for 30-day tourist visas online.
In late January, under a government directive released, voters from China, Japan, Republic of Korea, the U.S., the U.K., Germany and Sweden, all major target markets for Vietnam's tourism sector, are qualified to apply for e-visas to Vietnam. For the total list of eligible nationalities.
The new electronic visa system for foreign tourists did not. However, it has a smooth start as many reportedly had difficulties accessing the websites.
Applicants can finish required by a form available on two separate websites (one in Vietnamese and the other in English). They will be asked to pay a non-refundable fee online after receiving an application code.